Andrea D. Willis, M.D.
Senior Vice President & Chief Medical Officer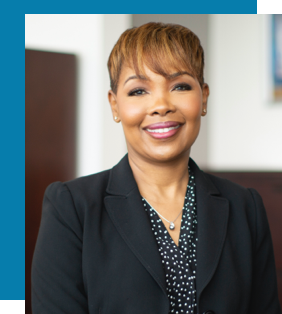 Andrea D. Willis, M.D.
Senior Vice President & Chief Medical Officer
In her leadership role at BlueCross BlueShield of Tennessee, Dr. Willis ensures that all clinical initiatives and quality endeavors support the needs of our members, and contribute to the overall health and well-being of our communities. As the standard bearer for clinical excellence and positive health outcomes, she keeps quality care at the forefront of discussions with our customers, providers, regulators and stakeholders.
Meeting Dr. Willis means quickly recognizing her passion for better health and a better health care system, which stems from her early professional experience as a pediatrician. Within BlueCross, she has served as medical director, advising on care structures for many successful programs, including the CHOICES Long-Term Services and Support program for the state's Medicaid population, and CoverTennessee.
Before joining our company, she served the State of Tennessee as director of CoverKids, helped develop Tennessee's federally approved State Children's Health Insurance Program (SCHIP), and served as deputy commissioner for the Tennessee Department of Health.
Dr. Willis is a fellow with the American Academy of Pediatrics and a member of the Tennessee Medical Association. She earned a Master of Public Health from Johns Hopkins School of Hygiene and Public Health and a Doctor of Medicine from Georgetown University School of Medicine.